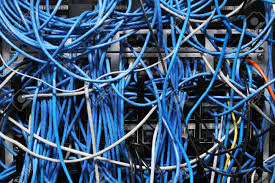 Whether you are building the house or office of your dreams or rebuilding the existing one you need to equip this place and space with the latest technology – cabling. You can do it whenever you want in the future but the most important thing is to create a proper basement for your projects.
Devices Need the Internet Access
The latest technology demands constant access to the Internet and remember the faster the better. Nowadays almost everyone can sign the contract for fibre-optic speed broadband, but how to use it for your needs is a different story.
The Internet Hungry Devices
You can have many desktops, laptops, latest TV sets, sound systems and Virtual Reality consoles and be very happy. All these devices could make you proud but you need the internet access. You can do it through WiFi network quickly and efficiently but two issues are there. WiFi network is not very secure and still not very reliable. In the contrary networking cables almost always works and provide all the time the fastest possible speed.
When the WiFi is Not Enough
Ironically, you can have the fastest possible internet connection and very poor WiFi signal which will never satisfy your needs. The internet signal must not be only brought to your house or office but also equally spread around. You can rely on WiFi access points.
Reliable and Secure Cabling
The Ethernet cables will never let you down despite they demand extra costs and efforts. You need to build a certain cable structure, install extra networking equipment, install wall plugs but it pays off for sure. A little area of your house or office will have to be designated to be your little server room. Network cables are always reliable and very secure if you worry about the hackers.
 If you need free advice and consultation ITBox Computer Services is always open and ready to help you.