No Electricity – No Wi-Fi?
Sometimes I have situations when a client would love to extend the Wi-Fi signal but there is no electric plug to power on an access point or a Power Line plug. For example, a furthest corner of your garden or the top point of your roof. You can run the Ethernet cable but how to power on an Access Point. Something must be done because of the garden party in the afternoon but what. Situations looks almost impossible to solve but fortunately the technique moved forward for you. Your solution is Power Over the Ethernet – POE in short.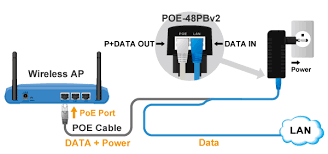 What is the Power Over the Ethernet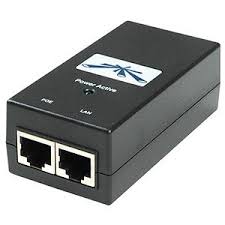 Simply speaking, PoE is a low voltage electric current running inside any Ethernet Cable. It is not dangerous for you and your family members so don't worry about the safety. Thanks to this you can run your cable to the place where you want and you are completely independent from any power plugs and their conditions. The Power over Ethernet kit is a little adapter, which you connect to your electric plug at the beginning and connect to your Ethernet cable. This solution is very convenient for everybody and can be used internally and externally.
My Favourite Solution – Ubiquity
There are many manufacturers on the market now with their products, but the most popular and my favourite products are from Ubiquity. This is a short description of their devices:
Spectral Analysis – Collects feedback on full 5GHz and 2.4GHz WiFi channel interference
Band Steering: Pushes connected WiFi clients to faster interference-free 5GHz channels.
Airtime Fairness: Minimises problem-client effects on system performance by limiting their airtime access
I really recommend this solution when electric cables and plugs are not available and you have a spare and very long Ethernet cable. What you need to do is to buy the device and collect the cables according to the instructions.
Here is a link to the website where you can see available options:
https://www.amazon.co.uk/Ubiquiti-UniFi-Wireless-Access-AC1700Mbps/dp/B00D80J2XU
The Summary
If you need more instructions and technical assistance with shopping and connection give me a call or email me. ITBox Computer Services is always ready to help with your issues.