When my customers and clients complain to me about their poor Wi-Fi condition at home or office the first thing on my mind is the Wi-Fi powerline adapter.
What is the Wi-Fi powerline and how does it work?
Basically, the powerline are minimum two small adapters, which you plug into the electric sockets. A one of them must be connected to your router by the Ethernet cable. The second adapter give the internet signal delivered by wire or wireless. The powerline adapters use electric cables in your house or office to deliver the internet signal.  Because of this you don't need to run any extra cables and worry how to hide it. The loss of the internet signal is insignificant.
Please look at this schematic picture to understand the main powerline idea: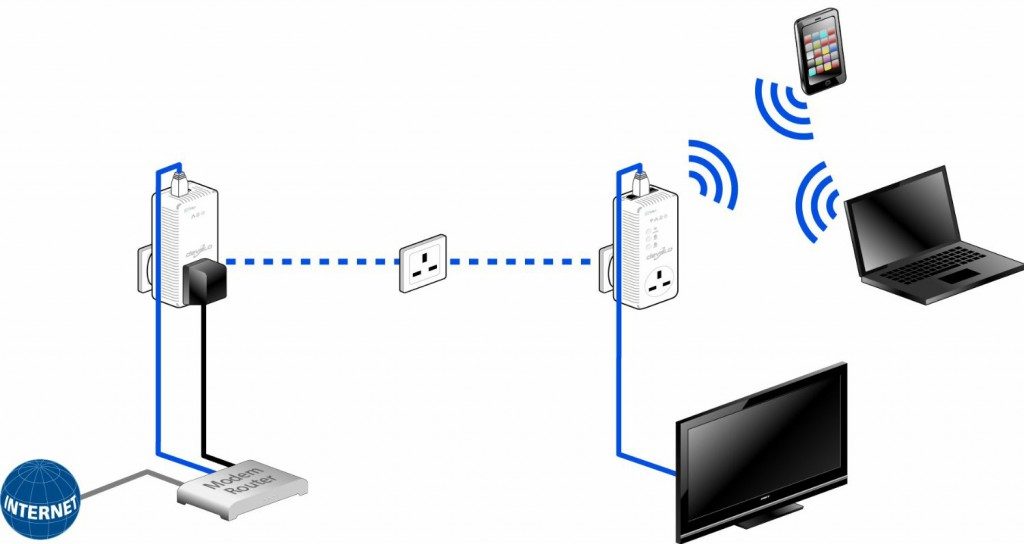 Benefits and Conditions of Powerline
The main benefits of Wi-Fi powerline installation are
You don't need to be computer geek to do it.
No extra Ethernet cable through corridors and rooms to deliver the Internet signal.
You can unplug the Wi-Fi adapter and move into a different room to heal the Wi-Fi situation.
There are three conditions for powerline to work
Adapters must be plugged in the same electric power circuit. If you have two it is not going to work.
The technical condition of your electric cables and power socket must be good. I experienced situations when conditions of cables and sockets did not fulfil the basic requirements, especially in old houses.
You should avoid using electric extensions for this operation as the strength of the internet signal goes down.
How much does it cost?
Good and reliable powerline Wi-Fi adapter costs around £60-£70 in basic configuration. If you have more than one room to cover you can buy more adapters for this purpose.
About 30 minutes of your time to install adapters and run connectivity test to be sure that it works.
What brand should you choose?
There are many powerline adapters producers on the market. From my personal experience, I would always recommend Devolo adapters. Here is the link to their website:
http://www.devolo.com/
Summary
Powerline is the fastest and most efficient way to improve the Wi-Fi situation in your house or office. You can change adapter configurations.  You don't need to worry about running extra cables. Now you understand better how it works and what benefits you can achieve.
Here are links to other articles.